Gelaran musik Jazz Festival tahunan akan kembali di gelar, untuk ke-16 kalinya Java Festival Production menyelenggarakan Jakarta International BNI Java Jazz Festival atau yang dikenal dengan  BNI JJF kembali hadir menyapa para penggemar musik jazz pada tanggal 28, 29 Februari dan 1 Maret 2020 di JIExpo Kemayoran, Jakarta.
Festival yang telah menjadi salah satu festival jazz terbesar di dunia ini mengkonfirmasi bahwa The Jacksons dan Omar Apollo akan menjadi special show di BNI JJF 2020 mendatang.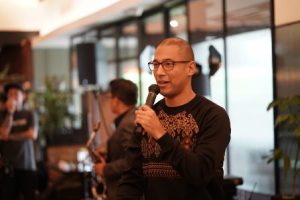 Selain itu, Java Jazz Festival juga telah memberikan konfirmasi bahwa Benny Mustafa N Jongens, Dwiki Dharmawan feat. Nadin Amizah, Jay Som, Jeff Lorber Fusion Trio (Jeff, Jimmy Haslip, Gary Novak), KRLY, Maya Hasan, Michael Paulo & Gregg Karukas feat. Melissa Manchester, Michael White, MLDJAZZPROJECT All Star feat. Devinta, Monéva, Arta (ICINC), MLDJAZZPROJECT S4 Feat. Potret, Fariz RM & Humania, Nita Aartsen Quintet, Nusantero, Pamungkas, Paulinho Garcia, Phil Perry, RINI, Ron King Big Band, The Steve McQueens, United States Air Force Band of the Pacific dan Yongky Vincent.
Deretan musisi diatas tersebut akan bergabung sebagai bagian dari lineup BNI JJF 2020 bersama dengan nama-nama yang telah di umumkan bulan November dan Desember 2019 lalu antara lain:  Ade Avery, Andezzz (Departure People), Anomalie, Ardhito Pramono, Ari Lennox, Brass Against, Brian Simpson feat. Jackiem Joyner, Bruno Major, Cantika, Cory Henry & The Funk Apostles, Cosmo's Midnight, Ezra Collective, Faye Risakotta, Gerald Situmorang & Sri Hanuraga "META" feat. Ify Alyssa, Good Morning Everyone, Idang Rasjidi Sundicate, Jaz, Lalahuta, Marcell, Mike Stern – Jeff Lorber Fusion Trio, MLDJAZZPROJECT S4, Mondo Gascaro feat. Rien Djamain, New York Voices, Oslo Ibrahim, Otti Jamalus & Yance Manusama, PREP, Sister Sledge, T-SQUARE, The Daunas, The Mighties, Tommyivan feat. Uap Widya, Tony Monaco and Friends, Young Gun Silver Fox, ZAD.
President Director Java Festival Production, Dewi Gontha mengungkapkan tema 'Redeem Yourself Through Music ini berasal dari sebuah pemikiran bahwa setiap manusia membutuhkan sesuatu untuk mengalihkan diri sejenak dari banyaknya hal yang terjadi dalam kehidupan ini, dan hal tersebut dapat berupa musik.
"Kami berharap festival ini dapat menjadi tempat dimana semua orang dapat menghabiskan waktu mereka dengan menyaksikan penampilan sensasional dan menikmati musik yang telah disuguhkan." ujar Dewi dalam acara konferensi pers BNI Java Jazz Festival 2020 di kawasan Senayan, Jakarta, (15/1).
Lineup harian Jakarta International BNI Java Jazz Festival 2020 dapat dilihat melalui website resmi di www.javajazzfestival.com
Tiket Jakarta International BNI Java Jazz Festival 2020 sudah dapat dibeli melalui www.javajazzfestival.com dengan rincian harga: 3 Day Pass: Rp 1,875,000, Daily Pass: Rp 775,000, Special Show The Jacksons: Rp 375,000, special Show Omar Apollo: Rp 250,000